Intent
To develop passionate, enthusiastic, and creative writers
To ensure pupils have strong literacy skills to inform and express their abilities both through the spoken language and with the written word
To ensure that every child is inspired by different types of writing and can become a confident and enthusiastic writer
The Write Stuff approach used at our School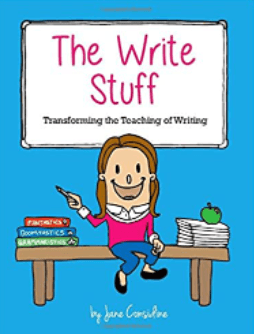 All pupils at Roach Vale are taught writing through Jane Considine's, 'The Write Stuff,' curriculum from Reception through to Year 6. With modelling at the heart of "The Write Stuff", sentence stacking lessons are broken into small, manageable chunks and taught under the structural framework of The Writing Rainbow. Teachers prepare children for writing by modelling the ideas, grammar or techniques of writing.
Implementation
Through using Write Stuff techniques, we support children by providing them with a range of 'tools' and structures that can be applied to their writing in a variety of contexts. Grammar, writing techniques and ideas are embedded in every single lesson, and revisited regularly to ensure that all pupils become confident and adept writers.
We ensure children encounter a combination of fiction and non-fiction units throughout their writing journey with the experience of a wide range of high quality texts and authors. In our lessons teachers follow a repeated pattern of 'Initiate', 'Model' and 'Enable' whereby they use the three zones of writing to provide a consistent whole school systematic approach to writing carefully constructed sentences. Where children are confident and enthused, we encourage pupils to 'Deepen the Moment' to further surround our reader using one of our taught lenses and adding further depth to our writing.
The Fantastics offer 9 lenses with which to structure ideas and target children's thinking. This supports children in developing variety in their writing by focussing on the vocabulary used, initiating ideas, provoking thoughts and igniting imaginations.
The Grammaristics focus on the importance of accurate grammar where tools are taught and used immediately to help children develop fascination around language so that they can manipulate and carefully structure words into sentences
The Boomtastics focus on the art of writing, using a range of literary devices and techniques to make careful choices, playing with language to add flair to our writing and achieve various intentional impacts on our reader, painting vivid pictures through our word choices.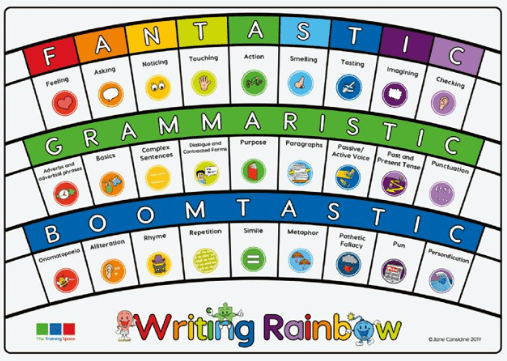 At our school, all texts have been mapped out across the year group to support and enhance our writing curriculum, whilst ensuring clear progression and coverage of the National Curriculum in each year group. Pupils will also cover aspects of the Curriculum on multiple occasions to support knowledge acquisition and retention during their writing journey.
Impact
The impact of a consistent approach to the teaching of high quality writing is that every child achieves good to excellent progress, according to their individual needs. Each child will identify themselves as a writer, with a growing respect and appreciation of their own ability, resilience when something is difficult, and a greater ownership and positive mind-set with what they can achieve.